Product Description
1
Products 
Name:   Farm Equipment Tractor Alloy Steel Forging Spare Parts Accessories Front or Rear Quality Forged Drive Shaft
Material: 40CrMo
Weight: From .2kg-5kg
Packing: wooden case
Min order: 1000pcs
Customized production is available as your drawings or sample. 
 
Process
Die Forging
Material
Stainless Steel, Carbon Steel, Alloy Steel 
Weight
0.1Kg~20Kg
Heat Treatment
Quenching, Annealing,Tempering,Normalizing, Quenching and Tempering
Testing instrument 
composition testing
Spectrometer, Metallographic microscope
Performance testing
Hardness tester, Tensile testing machine
Size Measuring 
CMM,Micrometer, Vernier Caliper, Depth Caliper, feeler gauge
Thread Gauge , Height Gauge
Roughness
Ra1.6~Ra6.3
Machining Equipment
CNC Center , CNC Machines, Turning, Drilling, Milling, boring machine,Grinding Machines,
Wire EDM,Laser Cutting&Welding, Plasma Cutting &Welding, EDM etc.
Quality control
Sampling inspection of raw materials and semi-finished products, 100% Inspection of finished products  
Surface Treatment
Shot Blast ,  Powder Coating, Polishing, Galvanized , Chrome Plated   
Production Capacity
60000T / Years
Lead Time
Normally 30 – 45 Days.
Payment Terms
T/T , L/C 
Material Standard
ASTM , AISI , DIN , BS, JIS, GB,
Certification
ISO9001:2008, IATF16949:2016
2
 Products Quality Control
Quality control involve the inspection and control of incoming materials, production processes, and finished products.
The quality control process includes,
1 First of all, the incoming raw materials with random sampling are analyzed by metallographic microscope to ensure that the chemical composition meets the production requirements
2 Then In the production process, there are QC staffs timely sampling ensure that the products are free of defects in the manufacturing process, and to coordinate and handle any abnormal quality issues may be occurred.
3 The final step of production process is magnetic particle flaw detector of the metal parts to detect it's hidden crack or other defects.
4 All the finished metal parts is sampled in proportion and sent to the laboratory for various mechanical performance tests and size measurement, and the surface quality is manually 100%  inspected.
The relevant testing equipment pictures are as following:
3
Quality Management System Control:
We strictly carry out system management accordance with iso9001 and ts16949 quality standards. And 5S lean production management is implemented on the production site.
The production management site as following:
4
Our Advantages:
 Brand
Our parent company, HiHangZhou Group, is a world-renowned high-end machinery manufacturing enterprise with 40 domestic subsidiaries and branches and 8 foreign manufacturing plants. Has long-term experience and good reputation in cooperation with world-renowned enterprises.
Technology
We have a complete production process and equipment research and development capabilities for ferrous metals forming. More than 25 years of production experience in forging equipment and casting equipment manufacturers, make us more thoroughly get  all the performance of each equipment. One-third of our company's employees are technician and R&D personnel, ensuring that high-quality products are produced with high efficiency.
Service
We can provide custom and standard manufacturing services with multiple manufacturing process integrations. The quality and delivery of products can be fully guaranteed, and the ability to communicate quickly and effectively.
Culture
The unique corporate culture can give full play to the potential of individuals and  provide a strong vitality for the sustainable development of the company.
Social responsibility
Our company strictly implements low-carbon environmental protection, energy-saving and emission-reduction production, and is a benchmark enterprise in local region.
5
Company Culture 
Our Vision
To become 1 of the leading companies
Our Mission
To become a platform for employees to realize their dream
To become 1 of the transforming and upgrading pacemaker of Chinese enterprises
To set the national brands with pride
Our Belief
Strive to build the company into an ideal platform for entrepreneurs to realize their self-worth and contribute to the society
Values
Improvement is innovation, everyone can innovate
innovation inspired and failures tolerated
6
FAQ
1.
Q:  Are you a trading company or a manufacturer?
A:  Obviously we are a manufacturer of forging products, casting products and also have a high level of machining capabilities.
2.
Q:  What series products do your have?
A:  We are mainly engaged in forming processing of ferrous metals, including processing by casting , forging and machining. As you know, such machinery parts can be observed in various industries of equipment manufacturing.
3
Q:  Do you provide samples? is it free?
A:  Yes, we commonly provide samples according to the traditional practice, but we also need customers to provide a freight pay-by-account number to show mutual CHINAMFG of cooperation.
4
Q:  Is OEM available?
A:  Yes, OEM is available.
5
Q:  What's your quality guarantee?
A: We insist that the survival of the company should depend on the products quality continuous improvement, without which we cannot survive for long. We carry out strictly product quality control for every process from incoming materials, production process to finished products via advanced detection instrument and equipment. We also invite independent third parties to certify our quality and management systems. Till now we have passed ISO/TS16949 and SGS certification .
6
Q.  How  about  the  Packing?
A: We usually use the iron box, or wooden case, also it can be customized according to customer's demands.
7
Q:  What is your minimum order quantity?
A:  Yes, we require all international orders to have an minimum order quantity. The quantity is up to the exact products feature or property such as the material, weight, construction etc.
8
Q:  What is the lead time?
A:  Generally our forging products and casting products need to make new dies or molds, the time of making new dies or molds and samples within 30-45 days, and the large batch production time within 30-45 days. it's also according to the parts structural complexity and quantity.
9
Q: What kinds of payment methods do you accept?
A: You can make the payment by T/T or L/C. 30% deposit in advance, 70% balance against the copy of B/L.
Certification

 
| | |
| --- | --- |
| Processing Object: | Metal |
| Molding Style: | Forging |
| Molding Technics: | Pressure Casting |
| Application: | Agricultural Machinery Parts |
| Material: | Steel |
| Heat Treatment: | Tempering |
Samples:

US$ 20/Piece

1 Piece(Min.Order)

|
Request Sample
Customization:

Available

|

Customized Request
Can Rear Drive Shafts Be Adapted for Use in Various Automotive and Industrial Settings?
Rear drive shafts are versatile components that can be adapted for use in various automotive and industrial settings. While their primary function is to transfer power from the engine or transmission to the rear wheels of a vehicle, their design and characteristics allow for customization and integration into different applications. Here's a detailed explanation of how rear drive shafts can be adapted for use in different settings:
1. Automotive Applications:
Rear drive shafts are commonly used in a wide range of automotive applications, including passenger cars, SUVs, trucks, and commercial vehicles. They are designed to accommodate different drivetrain configurations, such as rear-wheel drive (RWD), four-wheel drive (4WD), and all-wheel drive (AWD). Rear drive shafts can be adapted to specific vehicle models by considering factors such as length, diameter, material selection, and joint type (u-joints or CV joints). Additionally, rear drive shafts can be modified for high-performance vehicles or off-road applications, where they may require enhanced strength, improved balance, or increased articulation capability.
2. Industrial Machinery:
Aside from automotive applications, rear drive shafts can be adapted for use in various industrial machinery. These applications often involve the transfer of power from the engine or motor to driven components, such as pumps, generators, compressors, or industrial equipment. Rear drive shafts used in industrial settings may have different design considerations compared to automotive applications. They may need to withstand higher torque loads, operate under harsh environmental conditions, or have specific dimensional requirements to fit within the machinery's space constraints. Customization of rear drive shafts allows for seamless integration into diverse industrial applications.
3. Agricultural Equipment:
Rear drive shafts find utility in agricultural equipment as well. Tractors, combines, and other agricultural machinery often require the transfer of power to various implements, such as plows, seeders, or harvesters. Rear drive shafts can be adapted for use in these applications by considering the specific power requirements, torque limitations, and environmental conditions encountered in agricultural settings. They may need to be designed for durability, resistance to debris and moisture, and ease of maintenance. Agricultural rear drive shafts can vary in size, configuration, and material depending on the specific machinery and its intended use.
4. Construction and Off-Road Equipment:
In construction and off-road equipment, rear drive shafts are utilized to transfer power to drivetrain components, such as axles or wheels. These applications often involve challenging operating conditions, including uneven terrain, heavy loads, and extreme temperatures. Rear drive shafts adapted for construction and off-road equipment may require additional reinforcement, specialized joints, or protective coatings to withstand the demanding environments. They may also feature enhanced articulation capability to accommodate the suspension movements and maintain power transfer during off-road or rough terrain operation.
5. Specialized Vehicles and Custom Applications:
Rear drive shafts can be customized and adapted for specialized vehicles and unique applications. Examples include racing cars, military vehicles, armored vehicles, and custom-built off-road vehicles. These applications often demand specific performance characteristics, such as lightweight materials for improved acceleration, high-strength alloys for durability, or advanced joint designs for enhanced articulation. Rear drive shafts can be engineered to meet the unique requirements of these specialized vehicles and custom applications, ensuring efficient power transfer while withstanding the challenges posed by their intended use.
6. Retrofitting and Upgrades:
Rear drive shafts can also be adapted through retrofitting or upgrades to improve the performance or functionality of existing vehicles or machinery. Upgrading to stronger materials, replacing worn-out joints, or modifying the drive shaft's length or diameter can enhance power transfer efficiency, reduce vibration, or accommodate changes in the vehicle's configuration. Retrofitting rear drive shafts allows for customization and optimization without the need for complete system redesign, making it a cost-effective way to adapt existing equipment to new requirements or to address specific performance issues.
In summary, rear drive shafts can be adapted for use in various automotive and industrial settings by considering factors such as drivetrain configuration, power requirements, environmental conditions, and specific application needs. Whether it's for automotive, industrial machinery, agricultural equipment, construction and off-road vehicles, specialized vehicles, or retrofitting purposes, rear drive shafts offer versatility and customization options to ensure efficient power transfer and reliable operation in diverse settings.
Can Rear Drive Shafts Be Customized for Specific Vehicle Configurations or Upgrades?
Rear drive shafts can indeed be customized to accommodate specific vehicle configurations or upgrades. Customization allows for optimal fitment, performance, and compatibility with modified drivetrain systems or unique vehicle configurations. Here's a detailed explanation of how rear drive shafts can be customized for specific vehicle configurations or upgrades:
1. Length and Diameter:
Custom rear drive shafts can be manufactured with specific lengths and diameters to suit different vehicle configurations. When modifying a vehicle's drivetrain, such as installing a lift kit, altering suspension components, or changing the transmission or differential, the drive shaft's length and diameter may need to be adjusted accordingly. Modifying these dimensions ensures proper alignment and engagement with the transmission output shaft and differential input flange, allowing for smooth and efficient power transfer.
2. Material Selection:
Custom rear drive shafts can be crafted from different materials depending on the specific vehicle requirements or upgrades. While steel is commonly used for its strength and durability, alternative materials like aluminum or carbon fiber can be chosen to reduce weight and improve overall vehicle performance. The choice of material will depend on factors such as the vehicle's weight, power output, intended use, and budget considerations.
3. U-Joints and CV Joints:
U-joints and CV joints are critical components of rear drive shafts, allowing for flex and rotational movement while transmitting torque. When customizing a rear drive shaft, the type and size of U-joints or CV joints can be selected based on the specific vehicle configuration or upgrade. Heavy-duty or high-performance U-joints or CV joints may be chosen to handle increased power, torque, or off-road demands. Upgraded joints can provide improved strength, reliability, and articulation angles, ensuring optimal performance in modified drivetrain setups.
4. Balancing and Harmonics:
Custom rear drive shafts can be carefully balanced to minimize vibrations and harmonics. Balancing is crucial to ensure smooth operation and prevent excessive wear on drivetrain components. When modifying or upgrading the vehicle's drivetrain, changes in weight distribution, rotational speeds, or component stiffness can affect the dynamic balance of the drive shaft. Custom balancing techniques, such as precision weights or dynamic balancing machines, can be employed to achieve optimal balance and reduce vibrations, ensuring a comfortable and reliable driving experience.
5. Performance Enhancements:
Custom rear drive shafts can be tailored to enhance performance in specific vehicle configurations or upgrades. For example, in high-performance applications or off-road vehicles, reinforced drive shafts with thicker walls or additional gussets can be fabricated to handle increased power and torque loads. Upgraded materials, such as heat-treated alloys, can be utilized to improve strength and durability. By customizing the rear drive shaft, vehicle owners can ensure that the drivetrain system can effectively handle the demands of their specific applications.
6. Compatibility with Differential Ratios:
When changing the differential gear ratios in a vehicle, the rear drive shaft's rotational speed and torque requirements may be affected. Custom rear drive shafts can be designed to accommodate these changes in gear ratios, ensuring proper torque transmission and maintaining compatibility between the transmission, transfer case (if applicable), and the differential. This customization helps maintain optimal drivetrain performance and prevents potential driveline vibrations or failures that may arise from mismatched gear ratios.
7. Professional Consultation and Expertise:
Customizing rear drive shafts for specific vehicle configurations or upgrades often requires professional consultation and expertise. Working with experienced drivetrain specialists, automotive engineers, or aftermarket manufacturers can help ensure that the customization aligns with the vehicle's requirements and performance goals. These experts can provide valuable insights and recommendations, taking into account factors such as vehicle weight, powertrain modifications, intended use, and budget constraints.
In summary, rear drive shafts can be customized to suit specific vehicle configurations or upgrades. Customization options include adjusting the length and diameter, selecting appropriate materials, choosing the right type and size of U-joints or CV joints, balancing the drive shaft, incorporating performance enhancements, ensuring compatibility with differential ratios, and seeking professional consultation and expertise. By customizing rear drive shafts, vehicle owners can optimize drivetrain performance, ensure compatibility with modified configurations, and meet the unique demands of their specific applications or upgrades.
Which Types of Vehicles Commonly Use Rear Drive Shafts in Their Drivetrain?
Rear drive shafts are a common feature in several types of vehicles, particularly those that utilize rear-wheel drive (RWD) or four-wheel drive (4WD) drivetrain configurations. These vehicles rely on rear drive shafts to transmit power from the engine or transmission to the rear wheels. Here's a detailed explanation of the types of vehicles that commonly use rear drive shafts in their drivetrain:
1. Rear-Wheel Drive (RWD) Vehicles:
Rear drive shafts are most commonly found in RWD vehicles. In RWD configurations, the engine's power is sent to the rear wheels through the transmission and rear differential. The rear drive shaft connects the output of the transmission or transfer case to the input of the rear differential, allowing power transmission to the rear wheels. This setup is commonly used in sports cars, luxury sedans, pickup trucks, and some SUVs.
2. Four-Wheel Drive (4WD) and All-Wheel Drive (AWD) Vehicles:
Many 4WD and AWD vehicles also utilize rear drive shafts as part of their drivetrain systems. These vehicles provide power to all four wheels, enhancing traction and off-road capability. In 4WD systems, the rear drive shaft transfers power from the transfer case to the rear differential and front differential, enabling torque distribution to both the front and rear wheels. This setup is commonly found in off-road vehicles, SUVs, trucks, and some performance cars.
3. Trucks and Commercial Vehicles:
Rear drive shafts are essential components in trucks and commercial vehicles. These vehicles often have rear-wheel drive or part-time 4WD systems to handle heavy loads, towing, and demanding work conditions. The rear drive shafts in trucks and commercial vehicles are designed to endure higher torque and load capacities, ensuring reliable power transmission to the rear wheels.
4. SUVs and Crossovers:
Many SUVs and crossovers employ rear drive shafts, especially those with RWD or 4WD/AWD configurations. These vehicles often prioritize versatility, off-road capability, and towing capacity. Rear drive shafts enable power transmission to the rear wheels, enhancing traction and stability both on and off the road. SUVs and crossovers with 4WD or AWD systems can distribute torque to all four wheels, improving performance in various weather and terrain conditions.
5. Performance and Sports Cars:
Performance and sports cars frequently utilize rear drive shafts as part of their drivetrain systems. RWD configurations are common in these vehicles, as they offer better weight distribution, improved handling, and enhanced control during high-performance driving. Rear drive shafts enable efficient power delivery to the rear wheels, contributing to the vehicle's acceleration, stability, and overall performance.
6. Muscle Cars and Classic Vehicles:
Muscle cars and classic vehicles often feature rear drive shafts due to their traditional RWD setups. These vehicles evoke a nostalgic driving experience and typically prioritize power and rear-wheel traction. Rear drive shafts play a crucial role in transmitting power and torque from the engine to the rear wheels, allowing muscle cars and classic vehicles to deliver the desired performance and driving dynamics.
In summary, rear drive shafts are commonly found in various types of vehicles, including RWD vehicles, 4WD/AWD vehicles, trucks, SUVs, crossovers, performance cars, muscle cars, and classic vehicles. These vehicles rely on rear drive shafts to transmit power from the engine or transmission to the rear wheels, ensuring efficient power delivery, traction, and drivetrain performance.



editor by CX 2023-10-26
Error:获取session失败,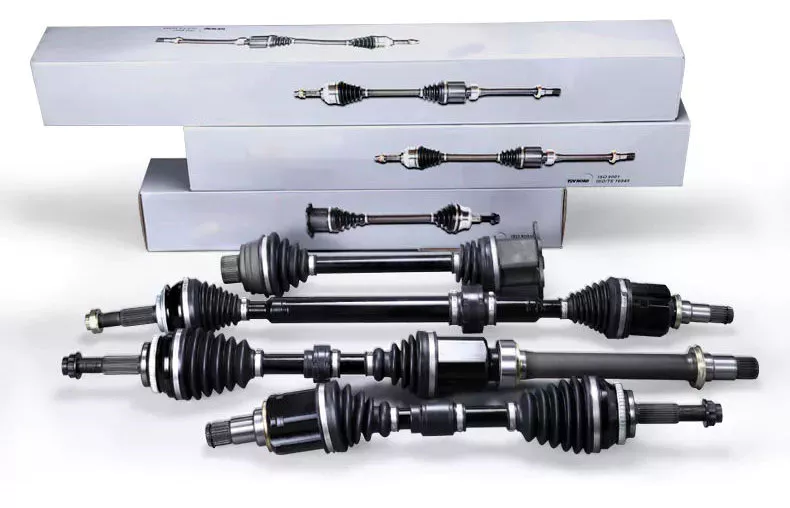 How to Replace the Drive Shaft
Several different functions in a vehicle are critical to its functioning, but the driveshaft is probably the part that needs to be understood the most. A damaged or damaged driveshaft can damage many other auto parts. This article will explain how this component works and some of the signs that it may need repair. This article is for the average person who wants to fix their car on their own but may not be familiar with mechanical repairs or even driveshaft mechanics. You can click the link below for more information.
Repair damaged driveshafts
If you own a car, you should know that the driveshaft is an integral part of the vehicle's driveline. They ensure efficient transmission of power from the engine to the wheels and drive. However, if your driveshaft is damaged or cracked, your vehicle will not function properly. To keep your car safe and running at peak efficiency, you should have it repaired as soon as possible. Here are some simple steps to replace the drive shaft.
First, diagnose the cause of the drive shaft damage. If your car is making unusual noises, the driveshaft may be damaged. This is because worn bushings and bearings support the drive shaft. Therefore, the rotation of the drive shaft is affected. The noise will be squeaks, dings or rattles. Once the problem has been diagnosed, it is time to repair the damaged drive shaft.
Professionals can repair your driveshaft at relatively low cost. Costs vary depending on the type of drive shaft and its condition. Axle repairs can range from $300 to $1,000. Labor is usually only around $200. A simple repair can cost between $150 and $1700. You'll save hundreds of dollars if you're able to fix the problem yourself. You may need to spend a few more hours educating yourself about the problem before handing it over to a professional for proper diagnosis and repair.
The cost of repairing a damaged driveshaft varies by model and manufacturer. It can cost as much as $2,000 depending on parts and labor. While labor costs can vary, parts and labor are typically around $70. On average, a damaged driveshaft repair costs between $400 and $600. However, these parts can be more expensive than that. If you don't want to spend money on unnecessarily expensive repairs, you may need to pay a little more.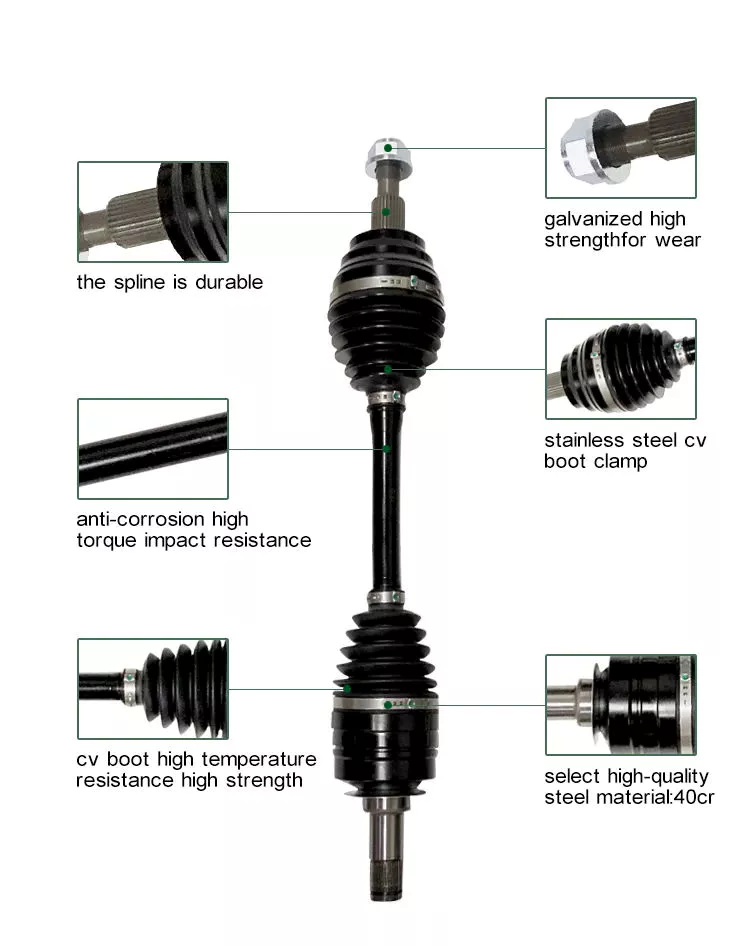 Learn how drive shafts work
While a car engine may be one of the most complex components in your vehicle, the driveshaft has an equally important job. The driveshaft transmits the power of the engine to the wheels, turning the wheels and making the vehicle move. Driveshaft torque refers to the force associated with rotational motion. Drive shafts must be able to withstand extreme conditions or they may break. Driveshafts are not designed to bend, so understanding how they work is critical to the proper functioning of the vehicle.
The drive shaft includes many components. The CV connector is one of them. This is the last stop before the wheels spin. CV joints are also known as "doughnut" joints. The CV joint helps balance the load on the driveshaft, the final stop between the engine and the final drive assembly. Finally, the axle is a single rotating shaft that transmits power from the final drive assembly to the wheels.
Different types of drive shafts have different numbers of joints. They transmit torque from the engine to the wheels and must accommodate differences in length and angle. The drive shaft of a front-wheel drive vehicle usually includes a connecting shaft, an inner constant velocity joint and an outer fixed joint. They also have anti-lock system rings and torsional dampers to help them run smoothly. This guide will help you understand the basics of driveshafts and keep your car in good shape.
The CV joint is the heart of the driveshaft, it enables the wheels of the car to move at a constant speed. The connector also helps transmit power efficiently. You can learn more about CV joint driveshafts by looking at the top 3 driveshaft questions
The U-joint on the intermediate shaft may be worn or damaged. Small deviations in these joints can cause slight vibrations and wobble. Over time, these vibrations can wear out drivetrain components, including U-joints and differential seals. Additional wear on the center support bearing is also expected. If your driveshaft is leaking oil, the next step is to check your transmission.
The drive shaft is an important part of the car. They transmit power from the engine to the transmission. They also connect the axles and CV joints. When these components are in good condition, they transmit power to the wheels. If you find them loose or stuck, it can cause the vehicle to bounce. To ensure proper torque transfer, your car needs to stay on the road. While rough roads are normal, bumps and bumps are common.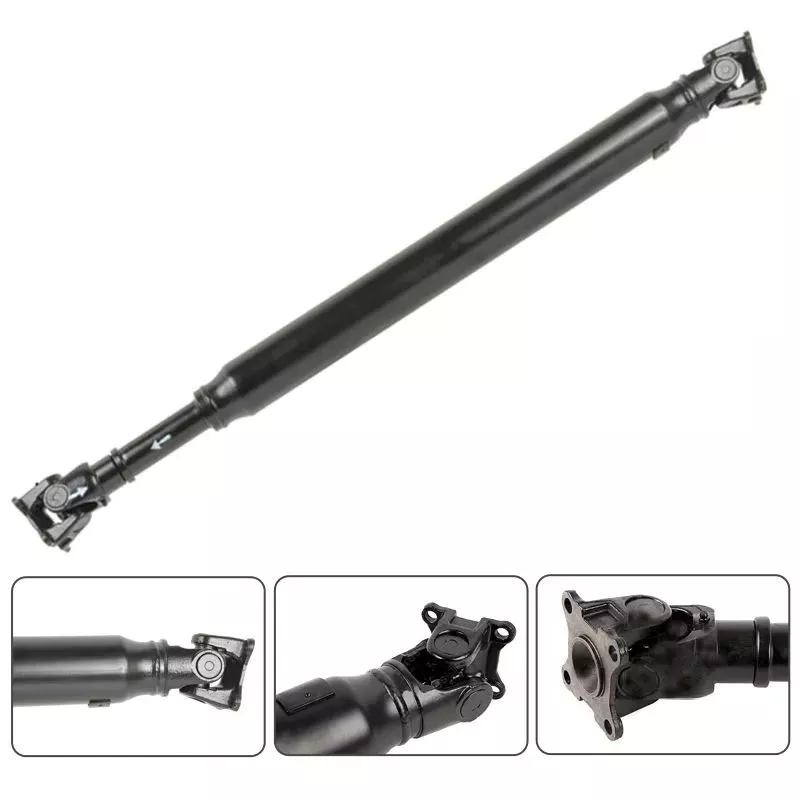 Common signs of damaged driveshafts
If your vehicle vibrates heavily underneath, you may be dealing with a faulty propshaft. This issue limits your overall control of the vehicle and cannot be ignored. If you hear this noise frequently, the problem may be the cause and should be diagnosed as soon as possible. Here are some common symptoms of a damaged driveshaft. If you experience this noise while driving, you should have your vehicle inspected by a mechanic.
A clanging sound can also be one of the signs of a damaged driveshaft. A ding may be a sign of a faulty U-joint or center bearing. This can also be a symptom of worn center bearings. To keep your vehicle safe and functioning properly, it is best to have your driveshaft inspected by a certified mechanic. This can prevent serious damage to your car.
A worn drive shaft can cause difficulty turning, which can be a major safety issue. Fortunately, there are many ways to tell if your driveshaft needs service. The first thing you can do is check the u-joint itself. If it moves too much or too little in any direction, it probably means your driveshaft is faulty. Also, rust on the bearing cap seals may indicate a faulty drive shaft.
The next time your car rattles, it might be time for a mechanic to check it out. Whether your vehicle has a manual or automatic transmission, the driveshaft plays an important role in your vehicle's performance. When one or both driveshafts fail, it can make the vehicle unsafe or impossible to drive. Therefore, you should have your car inspected by a mechanic as soon as possible to prevent further problems.
Your vehicle should also be regularly lubricated with grease and chain to prevent corrosion. This will prevent grease from escaping and causing dirt and grease to build up. Another common sign is a dirty driveshaft. Make sure your phone is free of debris and in good condition. Finally, make sure the driveshaft chain and cover are in place. In most cases, if you notice any of these common symptoms, your vehicle's driveshaft should be replaced.
Other signs of a damaged driveshaft include uneven wheel rotation, difficulty turning the car, and increased drag when trying to turn. A worn U-joint also inhibits the ability of the steering wheel to turn, making it more difficult to turn. Another sign of a faulty driveshaft is the shuddering noise the car makes when accelerating. Vehicles with damaged driveshafts should be inspected as soon as possible to avoid costly repairs.



editor by CX 2023-04-26